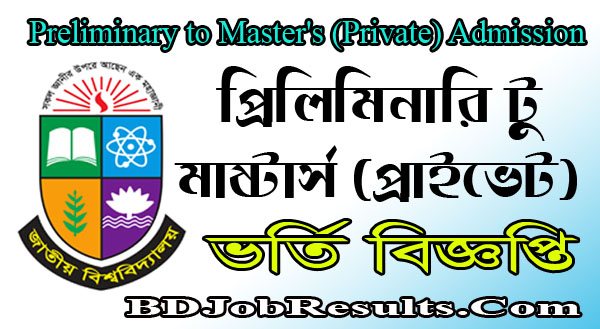 Preliminary to Masters Private Admission 2020-2021: National University published a notice that preliminary to masters private admission. It is a good news for Degree pass students. Many people went for this admission notice. In this topics, I discuss about Nu Master Private admission. In this article you can see how to apply Preliminary to master private admission, how to payment master private admisison, application start date, end date, and also get result published date. So follow our official website Bd Job Results and stay with us. Let's go.
Master Admission 2021

Every year a lot of people complete Degree (pass) Course. After complete Degree (pass) course they are waiting for Preliminary to Master's (Private) admission notice. When National Univserity published Masters Private admission on their official website NU  people are very happy to heard this news. It is a big opportutiny of degree pass students. Preliminary to Master's is two years course.
Application start: 25/07/2021
Last date of Application: 01/08/2021
Form/Fees/Necessary documents submitted Date: 27/07/2021 to 03/08/2021
Masters Private Application Fee: 1000tk (But Fee will be different College wise)
How to apply?
Firstly, open your browser like Mozilla/Chrome/Cometbird
Secondly, type or click here Masters Private Admission
Select your earned degree that you passed (Degree Pass/Certificate Course)
Then submit your Roll Number/Registration Number/Passing Year
After you can see select college and course sleletion
Step-4 you can see quota selection optition. If you have a quota then select desired quota.
The last step upload photo & Input mobile number
The picture size is 150px x 150px
Finally Submit Application
Keep your Applicant copy for future ahead
Note: Any Issue Call Help Line: 01966894702-3, 01955070297-9
Preliminary To Masters (Private) Notice
People who are looking for Masters Private admission notice for their the notice here. Click here to below and get the admission notice. Read attentively and apply to masters private.
Payment Method NU Masters Private Admission
Preliminary to Masters Private Admission payment method is too easy after submit online application. Go to your college and payment the college bank.
Preliminary to Masters Private Admission Result
National University published their Preliminary to Masters's Private Admission result on their official website. You Also see the result through SMS. So check NU official website. The result will be published within 1 month. Finally, I have a request that loves your website. Visit your website for any kind of information. We try to publish all kind of information very soon. Share this post on your timeline and bookmark our website in your browser.